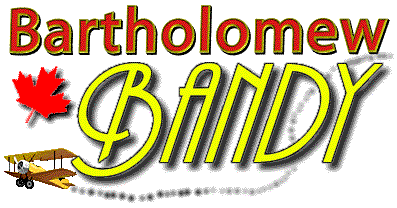 Bartholomew W. Bandy
Quintessential Canadian Hero or Menace to Peace, Order, and Good Government?


Bart Bandy is the creation of author Donald Jack, who won the Leacock Medal for each of the three volumes Three Cheers for Me, That's Me in the Middle, & Me Bandy, You Cissie.

"I enjoyed every word... terrifically funny."
-P.G. Wodehouse, on The Bandy Papers

Beginning with Bandy's life in Beamington Ontario shortly before leaving for Europe and the First World War, the "memoirs" follow his adventures through the war and into the 20's and 30's, with the last books carrying him into World War Two.

"Jack does more than play it for laughs. Men die on barbed wire and a hand sticks out of the water in the bottom of a shell hole --It seemed to be waving at us cheerfully. Rollo shook hands with it-- This mingling of humor and horror is like a clown tap-dancing on a coffin, but Jack is skillful enough to get away with it." -Time Magazine

When not busy avoiding death, winning medals, or oscillating through ranks like a yo-yo, Bandy spends his time driving his superior officers into apoplectic fits.

"These books represent as powerful an indictment of the bloody waste of war as has ever been written by a Canadian." - J. L. Granatstein


"What the [Bandy] books do is offer is a uniquely Canadian eye view of the 10-year period between 1916 and 1925, during which the world fought a war and this country, like Jack's hero, came of age."
-Books in Canada



The Bandy Papers

~~Click on the titles to see a synopsis, and click cover images for publication data~~

Other Donald Jack books
(non-Bandy)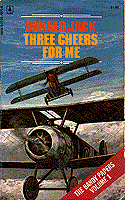 Three Cheers For Me
Bartholomew Wolfe Bandy abandons medical school for the Victorian Light Infantry. He survives the trenches only to be transferred to the Royal Flying Corps after capturing his own colonel in a daring raid on his own lines. He meets his future wife, Katherine Lewis, by crashing in her field, and despite his best efforts becomes an ace. He also lands an aeroplane on the colonel.
Three Cheers
was made into a 5-episode CBC radio play in 1972 or 1973 (starring Don Harron as Bandy), and recorded on 3 mono LP records by Radio Canada International (copies are now rare or unobtainable). First published 1962. Won the Leacock Medal 1963. Revised and republished as the beginning of a series in 1973.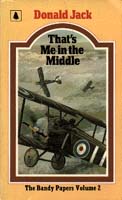 That's Me in the Middle
To his own amazement Bandy ends up an acting Lieutenant-Colonel in the Air Ministry, makes an ill-considered speech, flies to Ireland by mistake, is sent back to the front with the 13th Bicycle Battalion as a lieutenant, salvages a Rolls whose occupants have no further use for it, is reclaimed by the RAF and made a major. He and Katherine survive their honeymoon with only minor injuries. There's also the matter of the Irish gunrunner and the Bolshevik spy.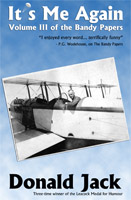 It's Me Again
(It's Me Again and Me Among the Ruins)
At his new squadron, Major Bandy engages in pigeon warfare with his Recording Officer as well as continuing to harass his superiors over parachutes. Forced down behind enemy lines, he steals a German plane from under its pilot's nose and is nearly shot down by his own side. Bandy, again a colonel, is sent to Russia to help the White Russians. In keeping with his past purloining of vehicles, he steals an armoured train from the Bolsheviks.
*Note
- At one time this volume was published in two separate parts; the first half sold as
It's Me Again
, the second as
Me Among the Ruins
. The two halves were also published together as
It's Me Again
, and that's how the latest version is being published. So,
Me Among the Ruins
is now part two of
It's Me Again
.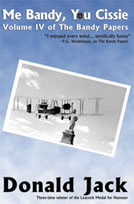 Me Bandy, You Cissie
Here Bandy recounts more of his experiences as a prisoner of the Bolsheviks, including marriage to feisty-tempered Dasha. Two years after everyone else has been demobbed, he's sent back to Canada and his parents, which and whom he quickly flees for the fast-paced life of a moving picture actor and stunt pilot, the arms of heiress and aspiring pilot Cissie Chaffington, and entanglement with the post-war American underworld in the person of gangster Tony Batt.
The 2009 edition includes Donald Jack's radio play
Banner's Headline
.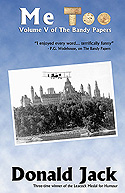 Me Too
Back in Canada, Bandy reprises and expands some of his Russian experiences alluded to in earlier works. He runs as a Liberal candidate (wanting only to get patronage money for his aeroplane-building schemes) and to the amazement of all concerned ends up not only in parliament, but in McKenzie-King's cabinet. What with perfecting the design of his sea-plane, the Gander, and rumrunning for Tony Batt, things get pretty complicated before the end.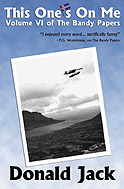 This One's On Me
Bandy and the Gander head for England by way of Iceland, where he makes the acquaintance of Sigga, a doctor. In England he loses the Gander in rescuing the heir to the sultanate of Jhamjhar, meets Sigga again, and is engaged to form an air force for Jhamjhar.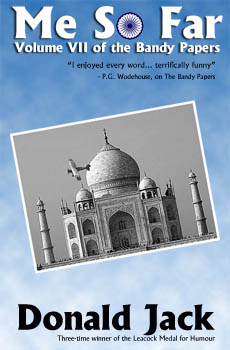 Me So Far
Bandy and Sigga travel to India in the service of the maharajah of an independent principality, where they become entangled in the politics of the Empire as Jhamjarh struggles with its neighbours, and with the Raj, to keep its sovereignty. When things go pants, Bandy is in the thick of the action as Deputy Supreme Commander of the maharajah's air force.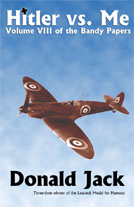 Hitler vs. Me
Sometime between Jhamjhar and WWII, Bandy and Sigga ended up involved in the Spanish Civil War, on the politically incorrect side for the time, opposing the fascists. Bandy, an instructor with the RCAF, is desperate to be sent to active service to avenge Sigga. He's also desperately trying to deny the existence of his toupee. McKenzie-King finally gratifies the former desire and sends him to England, no doubt believing that he'll at last be rid of Bandy. Meanwhile, he's coping with B.W., his and Cissie's very hostile and resentful son, an American who joined the RCAF and is now apparently blind. Not one but two Bandys is more than the war may be able to take. (And there are the two Churchills, too.) Group Captain Bandy and his son end up shot down in Normandy, in the hands of the Gestapo and the Resistance, in June 1944. Bandy never does get a VC and is rather put out about it: the Victoria Cross is the only medal he doesn't have. Originally published in 1996, Hitler vs Me is now available for the first time in paperback. The new paperback edition also includes an added bonus: Donald Jack's novelette "Where Did Rafe Madison Go?"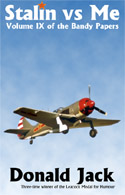 Stalin vs Me
At long last -- the ninth and final volume of the Bandy Papers, Stalin Versus Me, in which Bartholomew Wolfe Bandy has one final fling with death, despair, and destruction, in the final year of the Second World War. Click here for more details on Stalin Versus Me.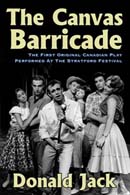 The Canvas Barricade
In print for the first time, Donald Jack's comedy The Canvas Barricade was the first Canadian play performed on the main stage of the Stratford Festival (1961). The original cast included Peter Donat, Kate Reid, Jack Creley, Amelia Hall, Zoe Caldwell, and Bruno Gerussi.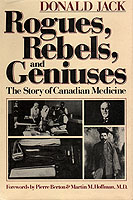 Rogues, Rebels, and Geniuses
Sub-titled The Story of Canadian Medicine, it presents a series of portraits of Canadian surgeons and physicians that shows the evolution of medicine from pre-scientific superstitions to modern practices. Sadly out of print, Rogues, Rebels, and Geniuses is not only an education in medicine but is almost impossible to put down, so packed is it with bizarre and ludicrous anecdotes. If only Bandy had completed his training at medical school...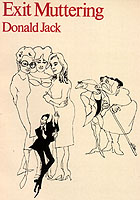 Exit Muttering
A two-act play, first performed in 1962. Described as "high comedy about an unsuccessful businessman and the three (simultaneous) women in his life".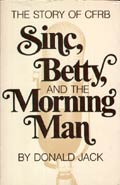 Sinc, Betty, and the Morning Man
The story of Toronto radio station CFRB and the hijinx of the odd collection of characters who worked there.
---
|Email| Links|