PIPPIN AND THE BONES
Pippin and Mabel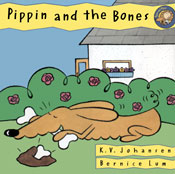 Kids Can Press, 2000. Illustrated by Bernice Lum.
Pippin is a yellow dog with great big ears and a curly black tail. She loves to chew on bones. Scrape! Scrunch! Crunch!
Pippin also likes to dig holes -- but Mabel is not happy when she she digs up the tomato plants. So Pippin takes her bone far away. She digs and digs ... and finds bones. Prehistoric mastodon bones!
• New Brunswick Lieutenant-Governor's Early Childhood Literacy Award (now the Dr. Marilyn Trenholme Counsell Early Childhood Literacy Awards), 2000
"It's a fun read-aloud." ~ Detroit Free Press