THE CASSANDRA VIRUS
A Cassandra Virus novel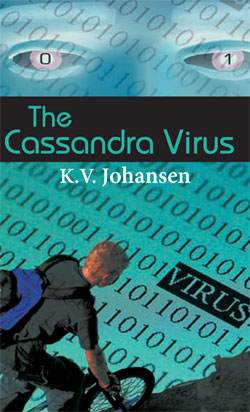 Orca, 2006. Cover by Lynn O'Rourke
The only thing worse than a bored genius is a bored genius with a supercomputer...
It's the near future. Computers are faster, cars run on fuel cells, and there's not much to do in the small town of Easter River if you're thirteen and not into team sports. Helen Chan-Fisher is happy enough trying singlehandedly to save the world's remaining amphibians from chytridiomycosis, but her friend Jordan O'Blenis is at a loose end. He may be a genius, but it seems like no matter what he tries to do, his robot-building older sister Cassie did it first. Then he has his great idea, an idea so great even Cassie hasn't done it. He'll write a programme for a virtual supercomputer, one that can live on the Web, and grow and spread and learn ...
Jordan calls it Cassandra. Helen calls it a virus.
Cassandra calls home...and when agents of the government security agency Bureau 6 try to seize her for their own purposes, it's up to Jordan and Helen to keep Cassandra from falling into the wrong hands.
The only thing worse than a bored genius is a bored supercomputer...
• Shortlisted, Canadian Association of Children's Librarians' Book of the Year for Children Award 2007
• 2007 "Our Choice" selection, CCBC
• Pennsylvania School Librarians Association Young Adult Top Forty list
• Canadian Family magazine 40 Great Summer Reads.
"Endearing characters, including Cassandra, add depth to this fast-paced, futuristic, middle-school thriller..." ~ VOYA
"The writing here is energetic and direct, and the computer trickery and other adventures are fresh and urgent; there's even some moral complexity to chew over." ~ Georgia Straight Nov. 30 2006