TORRIE AND THE FIREBIRD
A Torrie book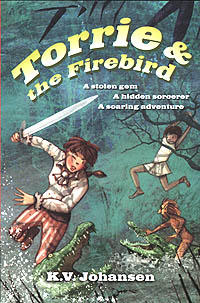 Annick, 2006. Cover art and interior illustrations by Christine Delezenne.
After a long voyage, the former pirate ship Shrike sails into port at Keastipol, greatest of the city-states on the Great Southern Continent.
The young captain, Anna, and her friend Torrie, oldest of the Old Things of the Wild Forest, have hardly set foot on shore before they encounter a boy fleeing an angry mob. He is Kokako, accused of a terrible crime. Anna and Torrie aren't the sort to stand by when the odds are so unfair. They rescue Kokako and set out on a dangerous journey to help him clear his name by finding the true destroyer of the continent's most revered icon of peace, the Oyon-Opallion. An encounter with an old sort-of-friend leads Torrie to suspect there's more to both the Oyon-Opallion and their unknown enemy than Kokako realizes. It's a long and dangerous journey, with many strange encounters along the way: sand-goblins, sorcerers ... emus?!
• Ontario Library Association Top Ten Best Bets for Children for 2006 list
"Johansen enthrals readers and keeps them entranced as Kokako faces one obstacle after another. The author takes readers on an exciting adventure filled with humour and unexpected turns of events that keep them entertained. This book is a must-read for all fantasy readers..." ~ Georgie Perigny, Canadian Review of Materials