TORRIE AND THE PIRATE-QUEEN
A Torrie book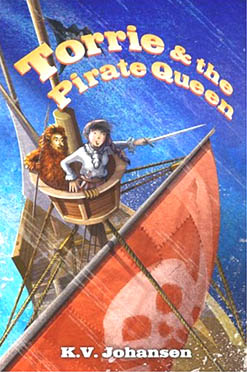 Annick, 2005. Cover art and interior illustrations by Christine Delezenne.
In the days when the granddaughter of Rufik and Cossypha is Queen of Erythroth, Torrie sets out on another adventure, this time at sea.
Anna is a young sea-captain on a mission to rescue her father from Nevilla the Pirate-Queen. She has a dozen retired pirates to crew her ship, the Shrike, and a secret weapon: Torrie, oldest of the Old Things of the Wild Forest. Pirates, magical treasure, a sea-serpent, a marooned prince and a kingdom under a terrible curse...
• Winner of the 2006 Lilla Stirling Award from the Canadian Authors' Association
• Canadian Children's Book Centre "Our Choice" Starred Selection
• Nominated 2006 Silver Birch Award
"K.V. Johansen enthrals readers and has them on the edge of their seats... Johansen has brought the characters to life and captivates readers by taking them on a journey they will never forget. This magical adventure should be added to all schools and libraries." ~ Georgie Perigny, Canadian Review of Materials
"K.V. Johansen is really on to something with the continuing adventures of Torrie ....This is a great series for 8-to-12-year-olds. Don't miss it." ~ John Burns, Georgia Straight