Pippin was born in 1995, when my mother gave a home to a pregnant dog. He looked like he had German Shepherd and Husky or Akita ancestry; his mother had a lot of Lab in her. However, like the Pippin in the books, he was yellow with a curly tail, which was black when he was a puppy, but later on it became more brindled, and his great big ears stood up rather than hanging down like they do in the books. (And of course, he was male, while Mabel's Pippin is female.) Mabel's Pippin and the real Pippin were two quite distinct characters, although Mabel's Pippin would never have existed without the real Pippin.
Pippin was a great inspiration for the dog in the books. He had an unquenchable enthusiasm and was always curious about new things. He liked long walks in the woods and on the marsh. When he was young, he did a lot of things that gave me ideas for Mabel's Pippin. He really did dig up all my tomato plants to bury a bone once. Then he carefully pushed them all back into the hole and patted down the earth around them so the humans wouldn't notice. Cunning Pippin! Unfortunately, he wasn't a very good gardener, and he put the plants back in upside down, so there were all my tomatoes with their leaves buried and their roots sticking up in the air. In real life, I said "Oh, Pippin!" quite a lot. Other things seemed to happen to Pippin after I wrote about them. He got skunked after Pippin Takes a Bath, and found a stray cat, which moved in with us, after Pippin and Pudding. No doubt to his great disappointment, he never did find a Mastodon.
Pippin was named after the wandering minstrel Martin Pippin in Eleanor Farjeon's book Martin Pippin in the Apple Orchard, a collection of literary fairy tales framed by the story of the minstrel who tells them.

After a long, happy life, Pippin died August 28, 2007, comforted until the end by friends who loved him.
I hope you enjoy these photos of Pippin.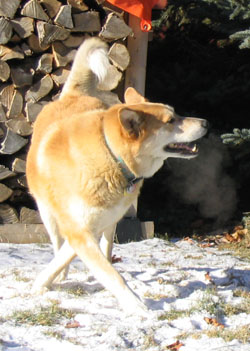 Click below for a video clip of Pippin!
pippin2.mov (1.8MB)

Pippin was also a staunch supporter of space exploration:

Pippin on Mars
Pippin and Comet Tempel 1
New Horizons Mission to Pluto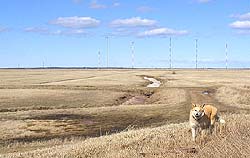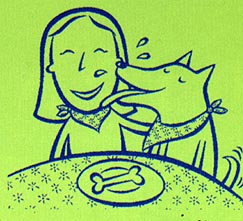 Sketch of Pippin and K.V. Johansen, for the Pippin & Mabel books,
© Bernice Lum