THE SERPENT BRIDE
Stories from Medieval Danish Ballads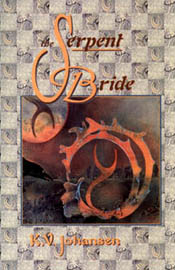 Thistledown Press, 1998. Cover painting: Xalibu Dawn, by Stevi Kittleson.
In a unique blend of Scandinavian and British storytelling, The Serpent Bride puts flesh on the bare bones of old Danish ballads ...
and parts the mists of romance just enough to show us the landscape, the lifestyle, and the actual emotions of that distant time.
The stories that K.V. Johansen tells are of transformation and witchcraft, of people trapped in the skins of animals, of dragon children and heartbroken knights, of trolls and dark treachery.
But there is good magic, too: feathered cloaks, gentle hearts, and help from beyond the grave. There are words, songs, and deeds to unlock the most fearful spells. And in place of the youngest son of conventional fairy tales, we meet young women who are more than a match for the perils which assail them.
Human nature, though, is unchanging. K.V. Johansen's haunting sense of magic is tinged by a sprightly amusement which sometimes breaks through into outright comedy.
"Any lover of fantasy and fiction will appreciate this collection." ~ Atlantic Books Today
"...here's a crossover book that will likely please anyone who hungers for a good story." ~ Bill Robertson, Saskatoon Star-Phoenix
"A most appealing collection - highly recommended." ~ CM Magazine