TORRIE AND THE SNAKE-PRINCE
A Torrie book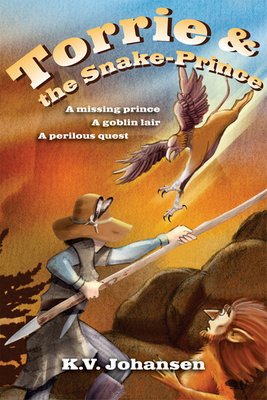 Annick, 2007. Cover and interior illustrations by Christine Delezenne.
What you want is the story about my friend Wren, who went off to rescue a prince who'd been turned into a snake. And how she and I got mixed up with a mysterious, not-quite-human wandering minstrel named Rookfeather ...
When Wren, a lame pedlar-girl, meets Torrie, oldest of the Old Things of the Wild Forest, adventure isn't long in following. The mysterious minstrel Rookfeather is looking for a hero to rescue Prince Liasis, who vanished from his bedroom on a spring night. Wren thinks she's just a pedlar, no hero, but Torrie knows better, and together they track a goblin band into the Wild Forest, to the lair of a sorcerer.
Prince Liasis, meanwhile, has been having his own difficulties, and not just a steady diet of earthworms. One of his goblin-guards decides he's her new best friend and of course a best friend can't refuse to help her steal back a treasure from the goblin lord -- who isn't a goblin at all. The prince's escape runs smack into Wren's and Torrie's rescue. Goblin hordes are one thing; an angry sorcerer -- and his big sister -- are entirely another. And what's a snake-prince supposed to do with twenty-seven knights who've been turned into toads?
• Nominated 2008/2009 Hackmatack Award
• Nominated 2008 Silver Birch Award
• Honourable mention, OLA Top Ten Best Bets for Children 2007
• Resource Links' Year's Best List 2007
• Selected by IBBY (the International Board on Books for Young People) for their 2011 selection of Outstanding Books for Young People with Disabilities
"This fantasy novel is another mesmerizing story of trickery and magic that will enchant all readers as they are taken on an escapade involving snakes, toads, goblins and sorcerers. Torrie & the Snake-Prince is easy to read but hard to put down." ~ Georgie Perigny, CM Magazine