TREASON IN ESWY
The Warlocks of Talverdin, book two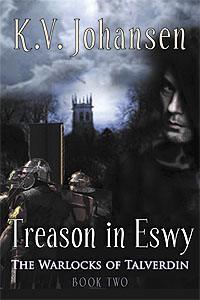 Orca, 2008. Cover art by Cathy Maclean.
"The prince has...there has been an accident, a terrible accident. Crown Prince Lovell is dead, Princess."
I found myself sitting on the floor with my skirts in a heap around me... The sea, I thought. I hear the sea. Lovell had promised me that before I went up to Dunmorra to be married in the autumn, he would steal me away for a day of freedom. We would take a boat down to the sea and fish for sole over the sandbars. That was when I started to scream.
The murder of Eleanor's brother leaves her the sole heir to the crown of Eswy, a pawn in the struggle for power between different religious and political alliances. With her father a prisoner, Eleanor flees her mother's schemes to marry her off to her cousin and finds herself hunted through the wilderness, facing treachery on all sides. Maurey, the hero of Nightwalker, and his friend, the Fen witch and warrior Korby, are summoned back from a mission overseas to find and protect the princess. Once a scullion and a fugitive, Maurey is now a young man of considerable status and power, a Nightwalker warlock in charge of his human brother's intelligence network. The mysterious symbol of the Yehillon seems to point to a conspiracy against both Dunmorra and the hidden Nightwalker kingdom of Talverdin, a conspiracy into which Eleanor has stumbled. While the two human kingdoms of the island are threatened with tyranny and Talverdin itself with annihilation, Maurey and Eleanor struggle to unravel the plots that threaten the princess's life and the peace of the three kingdoms.
"Johansen's sense of humour continues in the same vein as initiated in Nightwalker and the plot as well as the fighting episodes are as exciting as ever. ... Treason in Eswy is every bit as good as Nightwalker. Highly Recommended." ~ Janet M. Johnson, CM Magazine, Volume XIV Number 15, March 21, 2008
"Blending history, romance and humour, K.V. Johansen spins a tale of treachery and triumph that will delight her fans and earn her new ones." ~ The Brandon Sun