WARDEN OF GREYROCK
The Warlocks of Talverdin, book three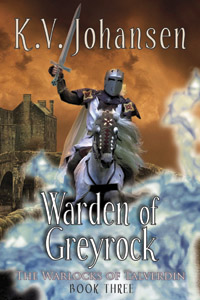 Orca, 2009. Cover art by Cathy Maclean.
Master Arvol was dead. There was no doubt about it.
I've seen enough dead people in my life to know that men with a whacking great knife stuck between their shoulder blades do not wake up and gasp out any useful last words, like, for instance, "Look out behind you." I knew someone was there, though...
Maurey, the half human, half Nightwalker Warden of Greyrock, and Annot, the dauntless Baroness of Oakhold, have settled down in Greyrock Castle, but those who still hate and fear the Nightwalkers threaten to destroy all they've worked for. While Maurey hunts for two outlaws who may guard an ancient secret, his liegeman Korby begins to uncover the truth about the cult of the Yehillon. Their enemies are always one step ahead of them though. Captured by the Yehillon and held as a hostage against Maurey, Annot struggles to survive and escape. A terrible choice lies before Maurey. If he abandons his defence of the border to save Annot, all Talverdin may fall as the Yehillon, led by their veiled prince, finally carry out a long-laid plan to wipe the warlocks from the face of the earth.
• Ontario Library Association Top Ten Best Bets for Young Adults 2009
"[Readers] will be totally engaged and fascinated with the complexity of the world that Johansen has created...This is a book that is meant to be read over again, in order to savour the layers of details." ~ Resource Links
"An entertaining fantasy adventure, highly recommended." ~ Midwest Book Review
"The action is fast-paced, and continues the tradition of these books in giving us highly developed characters that jump off the page...I highly recommend it for teens or for readers of all ages who enjoy medievalistic worlds, and thought-provoking fantasy." ~ Mad Tales blog